Screw mixers provide a high-quality mix through the efficient multiple and progressive actions of the flights. Through the customisable screw design, paddle size and shape, angle of the blades, as well as operating parameters including material loading and speed of rotation, a high degree of flexibility and control can be provided over the mixing process, ensuring the mixing action suits the application and materials involved.
The mixer's screws, or screws, provide gentle mixing, positively combining solid and liquid materials that differ in flow properties, particle size, or density and overcoming any characteristic that could result in segregation to deliver the desired mix. As homogeneity is quickly achieved this reduces work input, and therefore the energy requirements of the mixer, minimising the particle attrition and damage to any sensitive materials included.
These characteristics, when combined, make screw mixers ideal for processes that require continuous production.
Continuous Mixing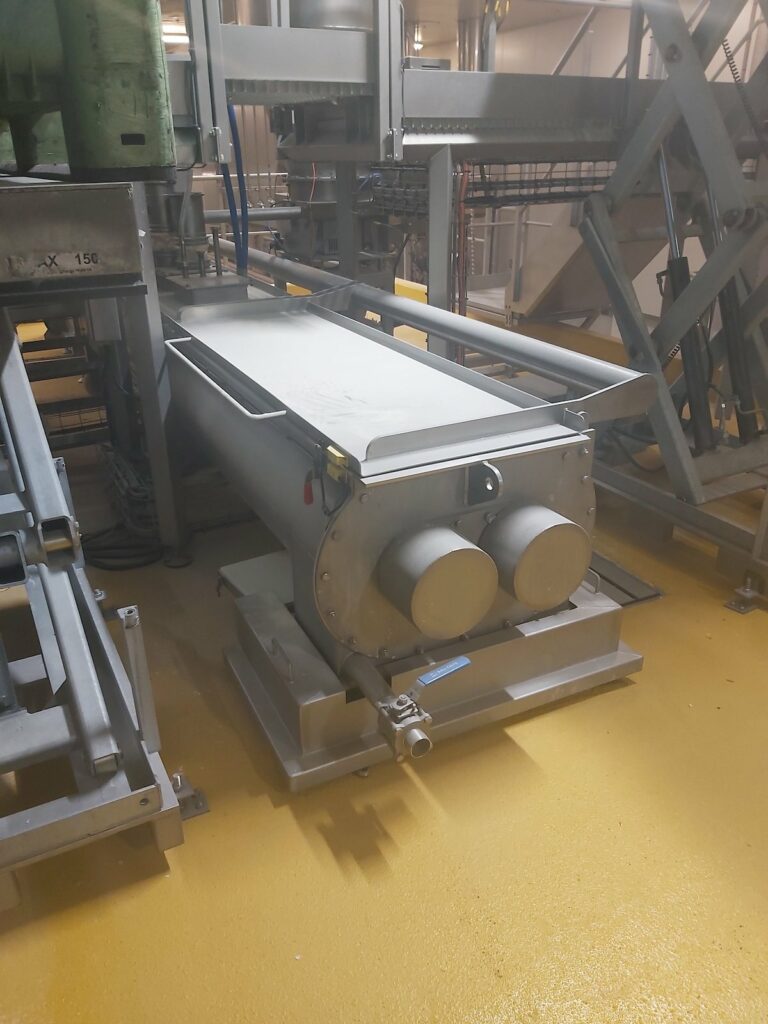 Ajax Equipment recently supplied leading European pre-fried and frozen potato product producer, Agristo, with a fourth continuous mixer, featuring an enhanced mirror polish finish, to enhance production capacity. The stainless steel twin screw mixer utilises a combination of paddle and Lynflow

ribbon screw geometry to provide efficient though gentle mixing to grated potato and various additives, including flavourings, to produce a range of potato products with negligible damage to the ingredients. The continuous mixer also has a range of hygienic features, comprising a crack and crevice-free finish, easy to clean profile and the ability to hold water.
The mixer's casing and covers feature a smooth figure of eight profile ensuring there are no 'dead' areas for the product to accumulate. While ease of access is assured with the counterbalanced covers needed on such a large mixer. The mixer also holds water making it easy to agitate the screws within the casing, which effectively becomes a bath for a cleaning cycle. Once cleaning is complete, the mixer's gentle incline ensures it fully drains.
"Since commissioning Agristo's first Ajax continuous mixers almost five years ago they have performed very well. As a result, when Agristo looked to expand its production in 2018 and 2020 continuing to work with Ajax was the obvious choice," said Dieter Raes, technical director, Agristo.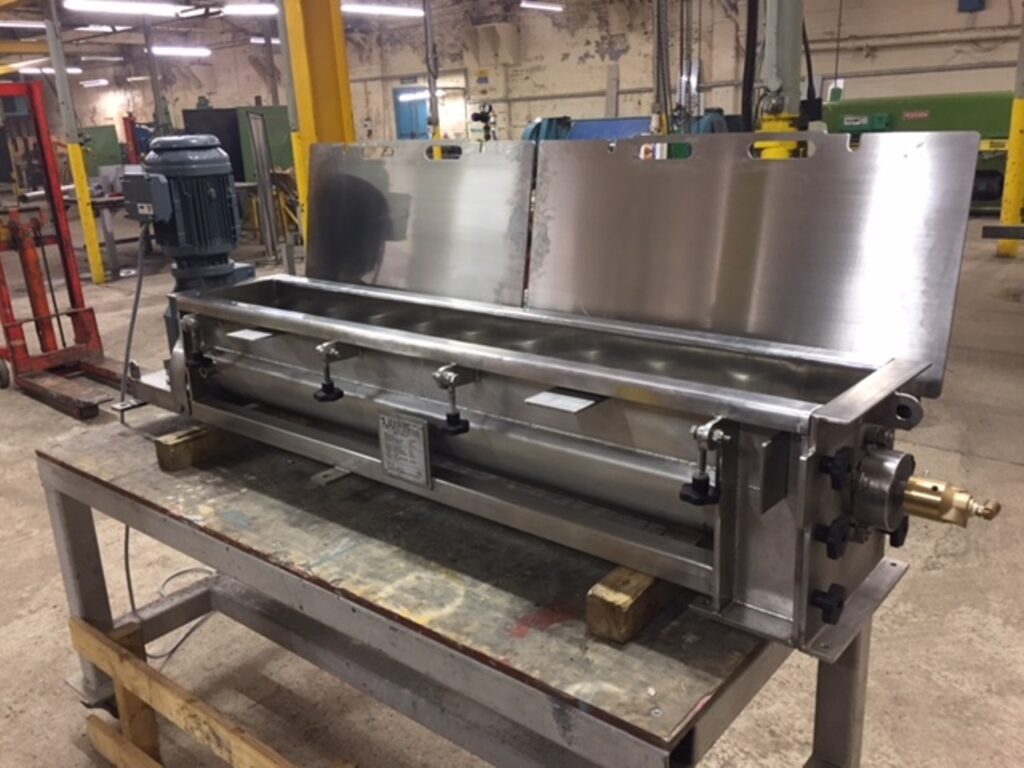 For materials that require lower shear mixing, such as liquid chocolate and inclusions or flavourings, a single screw may suffice to achieve the desired blend. To ensure the consistent condition and quality of the chocolate it is necessary to keep the liquid at a constant temperature, this can be achieved using a water-heated jacket and sometimes heating the screw shaft as well. Inclusions can be quite varied in size, surface condition and density so, care in design is needed to ensure the correct intensity of mixing whilst avoiding trapping or damage to any friable inclusions.
When processing sticky materials, it is helpful for quality and hygiene reasons for the design of the screws' flights to reflect this. The open form of ribbon flights helps prevent the build-up of material, which reduces the required frequency of maintenance, as well as allowing thorough cleaning to be easily carried out when required. Similarly, Ajax Equipment's LynFlow

paddle flights incorporate features for good mixing whilst resisting product build-up, making them easier to clean than standard quadrant paddles. It is also possible to include a 'quick release' feature, allowing screws to be easily changed for mixing different recipes.
Batch Mixing
While continuous screw mixers tend to offer greater flexibility, batch mixers can be better suited to some processes where the ability to load precise quantities of material in turn and the opportunity to measure and monitor quality batch by batch are beneficial or required.
Ajax Equipment recently developed a large capacity vertical screw blender for polymer powder production by a global chemical producer in South Korea. The stainless steel vertical screw blenders feature twin 'fountain' mixing screws, with each blender handling batches of up to 8T of polymer powder and additives. Crucial to the design is the pick-up characteristic of the vertical screw and the mass flow shape of the hopper. These ensure there are no dead spots in the blender and promotes the fullest mixing effect within a relatively short period of time.
Adaptable Design
With a design that can be altered to accommodate a wide range of materials and production needs as well as the option to produce continuously or in batches, screw mixers are well suited to provide effective and efficient mixing for a range of applications from food and confectionery production to chemical processing.
The post An Application-Based Design Ensures the Perfect Mix appeared first on BulkInside.